Antique Golf Collectibles: by Chuck Furjanic
Published 2004: 464 pages
A Price and Reference Guide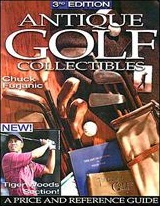 It's All Here! Thousands of items listed with prices and photos In depth chapters on: History of golf Collecting, Societies, Clubs, Balls, Autographs, Tees, Books, Art, Ceramics, and Glass Medals and Trophies, Trading Cards, Silver, and Gold. New Chapters: Golf Bags, Auctions.
The best collector's resource available on golf - including clubs, balls, autographs, trophies, books, and more! Whatever you want to know about golf collectibles, this is the book you need. By far, the most comprehensive price and identification guide for the golf collector.
Includes manufacture and product histories to make this an enjoyable read, not just a must-have price guide.
Includes triple grade guide to thousands of the most sought collectibles.
Book Review:
I've come into a collection of old and antique golf clubs. This reference guide has helped me sort through the chaff and really get to the difference between valuable and junk. It is also a great book for learning about the history of all things golf in enough detail to keep interest without being bogged down in fluff.
This book is not only fun to look at, but it was of great help to guide you to price/value when hunting those old items. I am not a golf fan but I even enjoyed looking through this book and then joining the hunt for treasures in the antique stores!
Table Of Contents: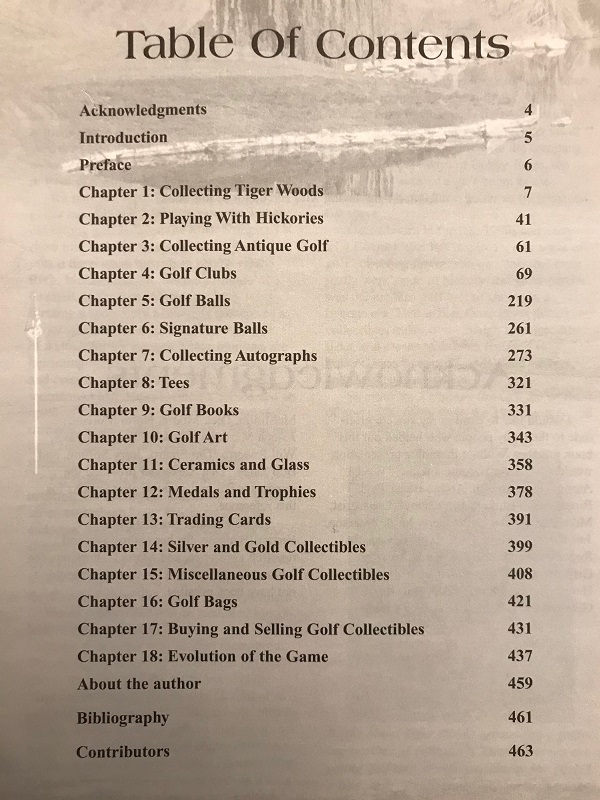 Page #, Content
4 Acknowledgments
5 Introduction
6 Preface
7 Chapter 1: Collecting Tiger Woods
41 Chapter 2: Playing With Hickories
61 Chapter 3: Collecting Antique Golf
69 Chapter 4: Golf Clubs
219 Chapter 5: Golf Balls
261 Chapter 6: Signature Balls
273 Chapter 7: Collecting Autographs
321 Chapter 8: Tees
331 Chapter 9: Golf Books
343 Chapter 10: Golf Art
358 Chapter 11: Ceramics and Glass
378 Chapter 12: Medals and Trophies
391 Chapter 13: Trading Cards
399 Chapter 14: Silver and Gold Collectibles
408 Chapter 15: Miscellaneous Golf Collectibles
421 Chapter 16: Golf Bags
431 Chapter 17: Buying and Selling Golf Collectibles
437 Chapter 18: Evolution of the Game About the author
459 About the author
461 Bibliography
463 Contributors
A highly respected golf collector offers his expertise on thousands of collectibles, including prices and descriptions. 550 photos, 50 in color. Thousands of listings of clubs, balls, books, autographs, and more, with photographs, updated pricing and new chapters on buying and selling tips makes this a useful resource on golf collectibles.
Synopsis: About Antique Golf Collectibles: by Chuck Furjanic
Product Identifiers
ISBN-10
0873417909
ISBN-13
9780873417907
eBay Product ID (ePID)
1646188
Key Details
Author
Chuck Furjanic
Number Of Pages
406 pages
Format
Paperback
Publication Date
2000-01-01
Language
English
Publisher
Krause Publications
Publication Year
2000
Additional Details
Edition Number
2
Copyright Date
2000
Illustrated
Yes
Dimensions
Weight
32.9 Oz
Height
0.8 In.
Width
8.5 In.
Length
11 In.
Target Audience
Group
Trade
Classification Method
LCCN
99-066998
LC Classification Number
GV965.F87 1999
Dewey Decimal
796.352/075
Dewey Edition
22