Cleek Marks and Trademarks on Antique Golf Clubs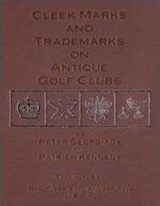 Paperback – October 1, 2000
by Peter Georgiady (Author), Patrick Kennedy (Author)
A pictorial guide to identifying cleek marks, makers' marks and trademarks on wood shaft golf clubs (1880-1935).Includes over 600 Cleek Marks, makers marks, model marks and registered trademarks on British, American and foreign clubs. Each mark with accompanying photo or illustration.
Golf's Cleek Makers and Cleek Marks
Anvils, arrows, flowers, crosses, shamrocks, stars, knots,
anchors, regent lions, rearing horses, pipes, keys, hearts, hands, knights
and Scots are all traditional symbols used to identify different cleek
makers. These marks, made from simple pictures, were usually stamped on
the back of the club iron head by the cleek-maker.
What's a Cleek?
In golf, a cleek is the name of a number-one iron which has very little loft to the club face. Some suggest that this early straight faced iron originally was required to hit a ball out of deep wagon ruts.
There were Maxwell cleeks that had holes drilled in the hosel to reduce club weight, and putting cleeks with long, shallow faces but less loft than an ordinary cleek, designed for use on rough greens. However among collectors of antique golf clubs, cleek has come to refer to something more.

The difference between a Cleek Maker and a Club Maker
Generally, cleek-maker and cleek mark are terms used to describe the maker of the iron club heads and the pictorial insignia used to mark the club head. Traditionally, cleek-makers produced just the heads of the clubs while club-makers were the ones who finished the club by adding the shaft and other finishing touches.
Synopsis: About Cleek Marks and Trademarks on Antique Golf Clubs by Peter Georgiady (Author), Patrick Kennedy (Author)
Product Identifiers
ISBN-10
1886752133
ISBN-13
9781886752139
eBay Product ID (ePID)
30340280
Key Details
Author
Patrick Kennedy, Peter Georgiady
Number Of Pages
360 pages
Format
Paperback
Publication Date
2000-10-01
Language
English
Publisher
Airlie Hall Press
Publication Year
20000000
Additional Details
Copyright Date
2000
Illustrated
Yes
Dimensions
Weight
19.2 Oz
Width
5.5 In.
Length
8.5 In.
Classification Method
LCCN
2001-281067
LC Classification Number
GV976.G47 2000
Dewey Decimal
796.352/075
Dewey Edition
21
Contributors
Foreword by
Andy Mutch, Rand Jerris