Olmans' Guide to Golf Antiques & Other Treasures of the Game
by John M. Olman (Author), Morton W. Olman (Author)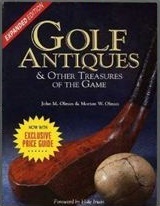 Published – February 1, 1992
Hardcover, Olmans Guide to Golf Antiques and Other Treasures of the Games. Illustrated with more than 700 photo's and vintage advertisements. It showcases the unusual golf equipment of yesterday, along with the artwork, books and other collectibles associated with the game.
Here is a comprehensive and fascinating look at the fastest growing segment of sports collecting today: golf antiques. OLMAN'S GUIDE TO GOLF ANTIQUES provides page after page of entertaining facts about the game of golf.
Available in hard cover and paperback
Review:
Great book for the collector or golf nut, so many good pictures and descriptions of golf related items, many good articles for the novice as well as the seasoned collector. A welcome addition to my library of golf books.
Table Of Contents: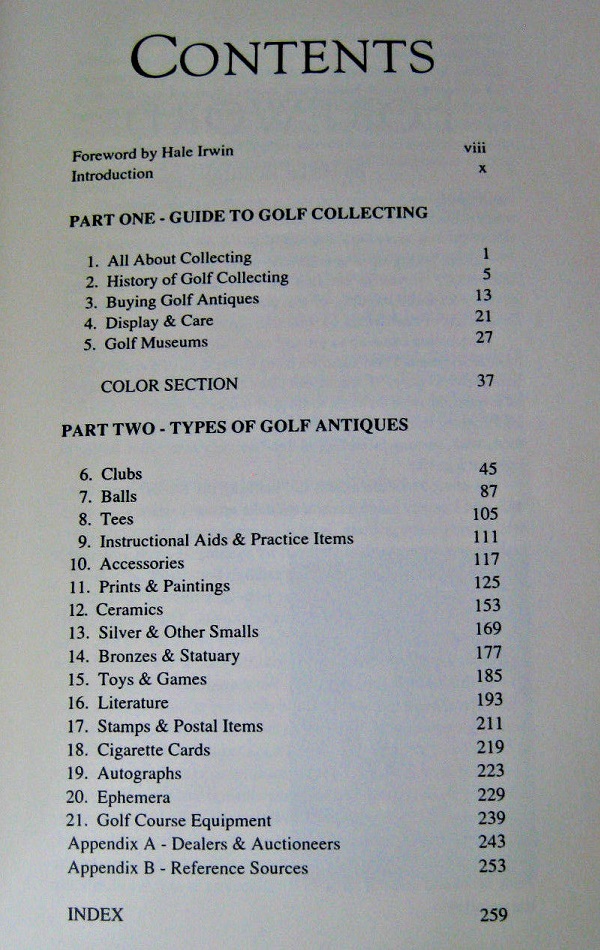 Foreword by Hale Irwin sum Introduction
PART ONE - GUIDE TO GOLF COLLECTING 1.
All About Collecting 1
History of Golf Collecting 5
Buying Golf Antiques 13
Display & Care 21
Golf Museums 27
COLOR SECTION 37
PART TWO - TYPES OF GOLF ANTIQUES
6. Clubs 45
7. Balls 87
8. Tees 105
9. Instructional Aids & Practice Items 111
10. Accessories 117
11. Prints & Paintings 125
12. Ceramics 153
13. Silver & Other Smalls 169
14. Bronzes & Statuary 177
15. Toys & Games 185
16. Literature 193
17. Stamps & Postal Items 211
18. Cigarette Cards 219
19. Autographs 223
20. Ephemera 229
21. Golf Course Equipment 239
Appendix A - Dealers & Auctioneers 243
Appendix B - Reference Sources 253
INDEX 259
This fully illustrated book details the equipment of yesteryear along with other fascinating collectibles connected to the centuries-old game of golf. Includes collecting guidelines and identification tips for all golf collectibles; where to buy and sell; how to display and care for a collection; and more. Over 500 photos.
Synopsis: About Olman's Guide to Golf Antiques & Other Treasures of the Game
Product Identifiers
ISBN-10
0942117026
ISBN-13
9780942117028
eBay Product ID (ePID)
627644
Key Details
Author
John M. Olman, Morton W. Olman
Number Of Pages
267 pages
Format
Hardcover
Publication Date
1992-02-01
Language
English
Publisher
Market Street Press
Publication Year
1992
Additional Details
Illustrated
Yes
Dimensions
Weight
34.6 Oz
Height
0.4 In.
Width
7.3 In.
Length
10.2 In.
Contributors
Foreword by
Hale Irwin