Golf's Golden Age: Bobby Jones and the Legendary Players
Hardcover – by Rand Jerris (Author), United States Golf Assoc (Author), George Pietzcker (Photographer), Arnold Palmer (Foreword)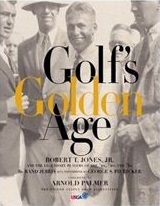 Published – June 1, 2005
Golf's Golden Age: Bobby Jones and the Legendary Players of the 10, 20's and 30's
Complemented by dozens of vintage and archival photographs, an entertaining look at golf during its golden era. The pictures are great quality, and the read was very interesting and enlightening. I personally think this is a must have for any golf lover. Makes a great coffee table book
Celebrates the seventy-fifth anniversary of Bobby Jones's 1930 Grand Slam win and offers biographical sketches of such golfing greats as Walter Hagan, Chick Evans, Tommy Armour, and Walter Travis, among others.
This is an excellent book for lovers of golf, both young and old. The book contains great photographs from the USGA museum archives. Most of all it gives a very interesting look at golf's history, its legendary players and how the game has evolved.
The late 1920s and early 30s were the Golden Age of American golf, when many of the greatest amateurs and professionals to play the game were at the peak of their careers. Most notably among these was Bobby Jones, the legendary amateur from Atlanta, Georgia. In 1930, Bobby Jones captured golf's greatest achievement, the Grand Slam, by winning the U.S. Amateur, British Amateur, U.S. Open and British Open Championships in a single season, an unprecedented and unmatched feat in the history of the game. Golf's Golden Age celebrates Bobby Jones and 61 of the premier players he competed against, including Chick Evans, Walter Hagen, Tommy Armour, Walter Travis and Gene Sarazen, in his quest to win the Grand Slam through a series of never before seen vintage photographs from Jones' private collection.
A biographic sketch of each golfer will accompany the photographs, taken by legendary golf photographer George Pietzcker. The profiles will provide an overview of each player's career, their contribution to the game's history, and a contemporary quote (preferably from Jones) drawn from the rich archives of the USGA library. Introductory essays will set the tone for the book discussing the Golden Era of American Golf and the significance of the Grand Slam, and provide an overview on the life, career and contributions of George Pietzcker.
A concluding essay will detail Jones' rich history and contribution to the game of golf. Golf's Golden Age will be produced with the full cooperation and endorsement of the USGA including images and artifacts from their vast archives.
United States Golf Association (USGA) - The USGA has served as the national governing body of golf for the U.S., its territories and Mexico since its formation in 1894. It's a non-profit organization run by golfers for the benefit of golfers. The Association sponsors a variety of programs that benefit everyone who plays the game, from conducting 13 national championships each year, to writing and interpreting the Rules of Golf, to funding turf grass and course maintenance practices, to supporting grassroots programs through its "For the Good of the Game" initiative.
Synopsis: About Golf's Golden Age
Product Identifiers
ISBN-10
0792238729
ISBN-13
9780792238720
eBay Product ID (ePID)
44467795
Key Details
Author
Rand Jerris, United States Golf Association Staff
Number Of Pages
160 pages
Format
Hardcover
Publication Date
2005-06-01
Language
English
Publisher
National Geographic Society
Publication Year
2005
Additional Details
Copyright Date
2005
Illustrated
Yes
Dimensions
Weight
33 Oz
Height
0.7 In.
Width
9.5 In.
Length
11.1 In.
Target Audience
Group
Trade
Classification Method
LCCN
2005-041534
LC Classification Number
GV964.A1J47 2005
Dewey Decimal
796.352/092/2 B
Dewey Edition
22
Contributors
Edited by
Jennifer Pierce
Foreword by
Arnold Palmer
Photographed by
George S. Pietzcker