Gilchrist's Guide to Golf Collectibles
by Roger E. Gilchrist and Mark Emerson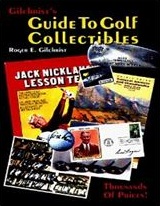 The largest assembly of Major Championship golf memorabilia ever compiled in one reference. Thousands of illustrations and prices for programs, tickets, badges, and competitor badges are here for all of golf's major championships --- both men and women. Autographs of almost all the winners, and collectible golf books.
Golf Collectibles by Roger E. Gilchrist and Mark Emerson is the definitive guide to the hobby of collecting Golf Memorabilia.
The front half of the book consists of tournament-related memorabilia. The next section is alphabetical listings for over 10,000 golf books with current market values.
Gilchrist and Emerson's Golf Collectibles is the collector's handbook for anyone interested in collecting or selling golf memorabilia of all kinds.
Review:
After years of collecting and researching golf clubs, balls, equipment and literature, I was very pleased to find Gilchrist's Guide to Golf Collectibles.
With the explosion in interest in vintage links-related materials, I found this guide to be the most up-to-date and complete resource yet. The portion devoted to golf publications is especially impressive, and essential to anyone even the least bit interested in collecting or selling literature related to golf.
I bought this book to lookup Master Tournament memorabilia prices and it delivered. It includes Badges, Tickets, Flag, Spectator Guides, Journals, Pin etc. It also has prices for many other golf related things from different tournaments except for clubs.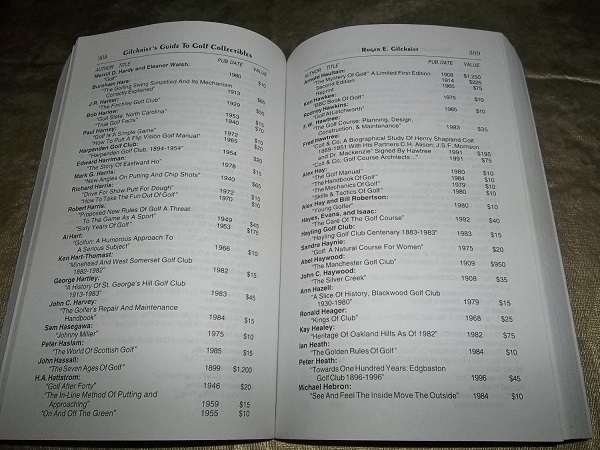 Lists current prices for antique golf clubs, golf books, memorabilia, tournament tickets, programs, golf art, and autographs.
Synopsis: About Gilchrist's Guide to Golf Collectibles by Roger E. Gilchrist and Mark Emerson
Product Identifiers
ISBN-10
1570900752
ISBN-13
9781570900754
eBay Product ID (ePID)
443728
Key Details
Author
Roger E. Gilchrist
Number Of Pages
512 pages
Format
Paperback
Publication Date
1998-07-01
Language
English
Publisher
aBOOKS Distributing
Publication Year
1998
Additional Details
Copyright Date
1998
Illustrated
Yes
Dimensions
Weight
26.1 Oz
Height
1.2 In.
Width
6 In.
Length
9 In.
Classification Method
LCCN
97-033582
LC Classification Number
GV965.G45 1997
Dewey Decimal
796.352/075
Dewey Edition
21