The Clubmaker's Art: Antique Golf Clubs & Their History
by Jeffery Ellis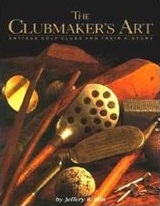 The Clubmaker's Art is the most complete, authoritative, and stunningly beautiful book ever produced on antique golf clubs.
Eminent golf club collector, dealer, and historian, Jeffery Ellis leads you on an incredible journey into the minds and workshops of golf's greatest craftsmen, exploring the remarkable evolution of golf equipment.
Sumptuously illustrated with 800 full-color photographs depicting more than 640 antique clubs, The Clubmaker's Art reveals the most astonishing array of sporting equipment ever assembled.
Detailing more than 1000 rare and innovative clubs, it brings to life the fascinating artisans who created and used them.
Combining insightful historical information with entertaining anecdotes and quotations, Ellis vividly captures the exquisite artistry of the game and its equipment. For everyone who loves golf, it is ideal for collectors and students of the game.
Synopsis: About The Clubmaker's Art: Antique Golf Clubs & Their History by Jeffery Ellis
Product Identifiers
ISBN-10
096530390X
ISBN-13
9780965303903
eBay Product ID (ePID)
194969
Key Details
Author
Jeff Ellis
Number Of Pages
576 pages
Format
Hardcover
Publication Date
1997-09-01
Language
English
Publisher
Zephyr Productions, Incorporated
Publication Year
1997
Additional Details
Copyright Date
1997
Illustrated
Yes
Dimensions
Weight
134.7 Oz
Width
9 In.
Length
12 In.
Classification Method
LCCN
96-090369
LC Classification Number
GV976.E45 1997