The Golf Club: 400 Years of The Good, The Beautiful, and The Creative
Hardcover – by Jeffery B. Ellis (Author)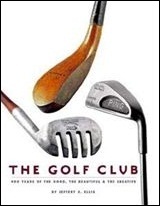 Published – September 1, 2002
THE GOLF CLUB presents over 450 of the most magnificent, historical, and valuable golf clubs ever devised to strike a golf ball during the past 400 years.
Inside are rare treasures made by Scotland's Old Tom Morris, known as "The Grand Old Man of Golf," and Hugh Philp, often called the Stradivarious of clubmakers. You will also find modern masterpieces by Ping, Spalding, Callaway, MacGregor, Titleist, Nike and others. You may even find a club that you own! You will see the club that Alan Shephard used on the moon, the 1-iron made famous by Ben Hogan
Review:
This is a great book for lovers of Golf. Nice to see the evolution of golf clubs from golf's inception to modern times in pictures. Lots of unusual clubs too.
Great coffee table book. Loaded with fascinating and informative illustrations using a historical timeline - a great source for anyone interested in the evolution of golf. It gives details of the progression of clubs and their styles over the years. Includes details of individual manufacturers which was a great help when I was selecting new clubs recently. Well worth the read!
Compare those clubs in the trunk of your car to these and you will be thankful to see how the golf club has evolved!
Synopsis: The Golf Club: 400 Years of The Good, The Beautiful, and The Creative Hardcover – by Jeffery B. Ellis (Author)
Product Identifiers
ISBN-10
0965303926
ISBN-13
9780965303927
eBay Product ID (ePID)
2203713
Key Details
Author
Jeffery Burt Ellis
Number Of Pages
192 pages
Format
Hardcover
Publication Date
2002-10-01
Language
English
Publisher
Zephyr Productions, Incorporated
Publication Year
2002
Additional Details
Edition Number
2
Copyright Date
2003
Illustrated
Yes
Dimensions
Weight
56.1 Oz
Height
1.5 In.
Width
9 In.
Length
12 In.
Target Audience
Group
Family
Age Range
18 - UP
Classification Method
LCCN
2002-103717
LC Classification Number
GV976.E455 2003
Dewey Decimal
688.7/6352/028/8
Dewey Edition
21