The Vintage Era of Golf Club Collectibles
Identification & Value Guide by Ronald John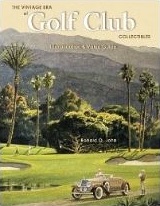 Focuses on the vintage era from the 1920s through the 1940s. Over 450 color photos.
Illustrated, September 9, 2001, 2002 values.
Main sections include woods, irons, putters, adjustable clubs, fancy club faces, wedges and utility irons, shafts and grips comparisons, grading and condition scales, 2001 values, and a glossary.
Manufacturers represented include Allied, MacGregor, Wilson, Spalding, and McGill.
This book helps fill a gap in understanding a great era of golf, 1919 to 1942, providing a chance to visually see some of the unique clubs designed during this era. It's nicely done and beautifully photographed, but, that's where it stops.
The book also identifies unique designs, which is where one will gather the best value, though the pictorial representations are not supported by any text other than the simplistic descriptions and approximate values.
The Vintage Era in golf collectibles is generally viewed as the relatively short period after wood shafts became steel. During this time coated shafts, often made of a material called pyratone, were used to achieve the modern effect of steel, including protection against rust, combined with the look of hickory.
This era began in the mid-1920s and lasted to around 1940. Many collectors have overlooked the unique designs, styles, ground breaking advancements and unsuccessful patents of these depression era club makers.
Ronald John's wonderful book has a wealth of full color pictures depicting many of these styles and designers. Of particular note are the beautiful "fancy face" woods, odd patented designs, and the early versions of now common clubs like sand wedges and offset putters.
Another useful feature of this book is the detailed valuations that are indicated for each club. In comparisons against prices on eBay I have found John to be surprisingly accurate, especially for exceptional examples of the various clubs shown.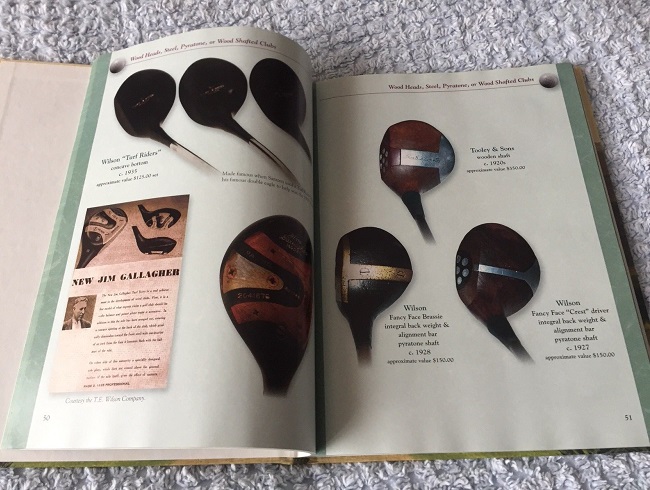 Synopsis: About The Vintage Era of Golf Club Collectibles Identification & Value Guide by Ronald John
Product Identifiers
ISBN-10
1574322648
ISBN-13
9781574322644
eBay Product ID (ePID)
1885964
Key Details
Author
Ronald John
Number Of Pages
224 pages
Edition Description
Illustrated
Format
Hardcover
Publication Date
2001-09-15
Language
English
Publisher
Collector Books
Publication Year
2001
Additional Details
Copyright Date
2002
Illustrated
Yes
Dimensions
Weight
17.6 Oz
Height
0.8 In.
Width
8.5 In.
Length
11 In.
Target Audience
Group
Trade
Classification Method
LCCN
2002-276166
LC Classification Number
GV976.J64 2002
Dewey Decimal
796.352/028
Dewey Edition
21