Wood Shafted Golf Club Value Guide
by Peter Georgiady, Multiple Editions Available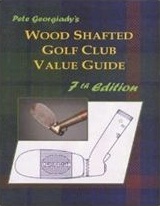 Over 300 photographs and over 6000 values on antique wood shaft golf clubs for collectors and historians. Invaluable if you already own a number of clubs or to build a collection.
Peter Georgiady is recognized as one of the most scholarly collectors in the world. A resident of North Carolina, he attended law school at Dundee University in Scotland. He is known as one of the most knowledgeable historians on antique wood golf club descriptions and values.
It was during his time in Scotland that he developed his passionate interest in the history of golf club making. Pete is one of the most knowledgeable experts in Antique Golf club market, and he is known world wide as the go to guy for historical golf club information.
Review: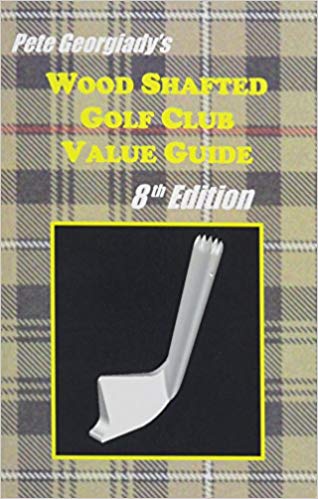 This book was very helpful as I'm restoring a lot of "Commons" Hickory clubs for our AP National Golf Club for play here in the NW.
I have come across many Hickory Clubs, both wood heads and Irons that for me, are untraceable.
This book helps since I certainly would hate to restore a Hickory Club that should belong in a collection "as is" to appreciate by its owner.
Product Identifiers
ISBN-10
1886752117
ISBN-13
9781886752115
eBay Product ID (ePID)
745839
Key Details
Author
Peter Georgiady
Number Of Pages
320 pages
Edition Description
Revised
Format
Paperback
Publication Date
1999-04-01
Language
English
Publisher
Airlie Hall Press

Multiple Editions Publish Dates

Edition Publications
1st, 2nd, 3rd, 4th, 5th, 6th, 7th, 8th

1995,1996,1998,2000,2002,2007,2009,2013

Additional Details
Copyright Date
1999
Illustrated
Yes
Dimensions
Width
5.5 In.
Length
8.5 In.