Dating the Age of Vintage or Antique Wood Shaft Golf Clubs
Names and Features That Help Determine The Age of Antique Hickory Golf Clubs
Woods: Original Name
No.1 Wood; > Driver, Play Club
No.2 Wood; > Brassie
No.3 Wood; > Spoon Brassie
No.4 Wood; > Wood Cleek, Baffy
Putter: Blank
Irons: Original Name
No.1; > Driving Iron, Cleek
No.2; > Cleek, Mid Iron
No.3; > Mid-Mashie
No.4; > Jigger, Mashie Iron
No.5; > Mashie
No.6; > Spade Mashie
No.7; > Benny
No.8; > Mashie Niblick
No.9; > Pitching Niblick
Wedge > Niblick, Baffing Spoon
What Age Characteristics To Look For On The Woods
The wooden heads of these old classics are generally considerably smaller in comparison to today's club heads, and they include an old look and feel. On the club heads you may find a stamp with the name of the club maker or a golf professional's name and the golf course he was associated with, though not all clubs have these markings.
You may at times also see names stamped on the shaft, just below the grip. These stamps are generally either the professional's name or the customer's name for whom the club was made or fitted to. A lot of the clubs you'll find are built for the professional who sometimes fit them for the adjusted the shaft flex and length appropriate to a specific golfer.
Most wooden golf club heads are made from persimmon wood which was considered the highest-quality golf club heads for those clubs referred to as "woods". Persimmon woods are still made, but in far lower numbers than in past.
The wood shafts are made of hickory for it's strong and yet elastic flex and feel, and they are generally tapered to be a smaller diameter at the head and larger at the grip. The handle end of the shafts are larger so that you could apply one layer of friction tape and a user desired leather grip to create a standard grip for use by most golfer. The grips are usually real leather strips, cut and wrapped around the handle end of the club. These grips are held on with two sided friction tape, tacks and waxed linen thread that is used to transition to the wood, just as on the irons.
What Age Characteristics To Look For On The Irons
On the irons you will notice that the iron heads are made of forged steel, with an old look and feel. Like the woods, the iron heads may be stamped with the name of the maker or the professional's name and the golf course he was associated with. The iron heads will also be stamped with one of the old colorful names that are common for old antique like Cleek, Mid-Iron, Jigger, Mashie, Niblick Spade, Baffing Spoon, etc. Plus, club heads made prior to the 1920's were made with lower quality steel and will look more discolored or even rusty
What Age Characteristics To Look For On The Putter
Putters are mostly found with a blade style head. They are usually made of forged steel and have a great feel when struck properly in the sweet spot. Sometimes these old putters will feel a little light in weight and have up to 10 degrees of loft since in the old days greens were often slower speed or had longer grass that putters were milled to compensate for.
5 Steps to Determine How Old Antique Golf Clubs are:
A simple list of antique wood golf club descriptions can help a lot with identification. With all the antique and reproduction clubs on the market, it is generally not very easy to precisely distinguish an antique golf club from one that is merely a vintage or reproduction. There are several hints though that can help collectors date these antique weapons of grass destruction with relative accuracy. In turn, this can ultimately help in determining a golf clubs value at the same time.

These 5 steps can help you perform a preliminary golf club appraisal, and get a quick insight into the approximate age of your golf clubs which is the natural first step in establishing your antique golf clubs values.
The Wooden Shaft Test - Whether or not the shaft is made of wood is a primary indicator of age. Steel-shafted golf clubs were introduced in the 1920's about the same time that some club makers started using the current numbering system to identify different clubs instead of the old creative names. Some of these clubs had metal shafts that were overlaid with plastic wood grain covers. An old reliable magnet test can always uncover whether the original shaft is wood or not. If not, this is most likely a post 1920's age factor. Keep in mind that hickory wood shaft golf clubs are still made today by some manufacturers, so a wood shaft does NOT guaranty your club is an antique. In this case looking into the club head and face can help with authentication.

The Markings or Stamps - If there is a marking or shop stamp, an Antique Golf Club Reference Guide could be used to date the club fairly precisely. Often, this can be the most reliable way to date and value antique wood golf clubs. Keep in mind that the numbering system introduce in the 20's can help with this as well.

The Golf Club Grip - It's important to spend some time and energy up front to effectively determine whether the grip of an antique golf club is original or if it may have been replaced once or twice. If it's original, the texture of the clubs grip can offer meaningful insight into its age. Older golf clubs were generally equipped with flocked suede grips. It was quite common for clubs that were made after the early 1920's to be supplied with leather grips. An accurate assessment here is critical as you continue your analysis.

The Club Face - The club face on an antique golf iron is often smooth since they were originally manufactured without grooves, though many players manually scored their club faces. The grooved marking of faces on antique iron clubs was not introduced until the first few years of the 20th century. While this will not rank as an exact method of dating an old golf club, a smooth face would certainly indicate that it is a club that dates prior to 1905.

The Metal Club Head - Simple test. Prior to 1920, a different grade of steel was used to manufacture club heads. This inferior grade of steel, as you would expect, results in clubs which today look more dated; dark colored, sometimes even rusty. An old golf club that still exhibits a shiny club head would point to a piece dated post 1920.
Features of Woods - Wooden Headed Clubs
Long Nose Golf Clubs (pre-1885)
Transitional Golf Woods (1885 - 1890)
Bulger Golf Woods ( Scared or Splice Neck 1895 - 1910 )
Bulger Golf Woods ( Socket Neck 1910 - 1935 )
Aluminum Head ( 1895 - 1935 )
Features of Irons - Smooth Face & Pattern face
Early Golf Irons ( pre 1850 )
Smooth Face Irons ( 1850 - 1910 )
Pattern Face Irons ( 1910 - 1935 )
Features of Putters - Smooth Face & Pattern face
Steel Blade Head Smooth Face 1890's
Steel Blade Head Pattern Face
Aluminum Head (1895 - 1935 )
Wooden Headed ( Splice join pre-1900 )
Wooden Headed ( Socket join post 1900 )
Antique Wood Golf Club Preservation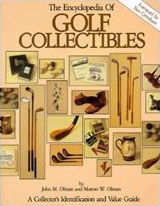 Like with most antiques the patina is a big part of the value, and most of the time the best way to preserve the value for antique hickory wood golf club collectors, is to do nothing.
At times an old golf clubs value can be dramatically harmed by polishing, refinishing, or shaft repair that can compromise it's original integrity. Never perform any restoration or modification on any antique golf club until you have had a chance to check with a reputable antique dealer, particularly one familiar with golf collectibles that can help you understand what will enhance the clubs value vs. what will compromise the clubs value.

When purchasing an antique golf club it's wise to acquire a certificate of authenticity, and if possible, a golf club appraisal along with your purchase, especially if it's coming at a steep price. Reproductions are out there, so be careful of what antique wood golf clubs to buy!