Collecting Antique Golf Clubs by Peter Georgiady
Ten sections; 234 photo illustrations with index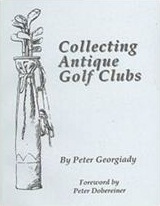 Original Copyright 1995, Multiple Edition Available, By Peter Georgiady
A basic text book for collectors and historians of wood shaft era golf clubs. Methods and materials used in constructing old golf clubs is discussed, club types reviewed, famous clubs described and collectors' rationale is outlined. Ten sections; 234 photo illustrations with index.
An illustrated antique wood golf club collector's guide that is easy to read and packed with vital information for identifying antique clubs. It includes the following information:
Definitions and descriptions of golf club construction.
The evolution age of wood golf clubs.
Thoughts on collecting and buying wooden antique hickory golf clubs.
Historical sketches of famous clubs including some that were outlawed.
Review:
Peter Georgiady has done a terrific job of providing a collectors perspective on the process, nature and rationale for collecting antique golf clubs.
He clearly defines the features that collectors should search for as well as the conditions, rarity and nuances that establish value and collectibility.
If you are interested in starting a collection or even finding out what those clubs in the attic are worth, this is a must have book.
Book Contents:
COLLECTING ANTIQUE GOLF CLUBS by Peter Georgiady Copyright 1995
Collectors' Quick Reference Card from
General Tips for Club Hunters: Condition is very important. Buy clubs in the best condition whenever possible. (see Condition & Repair panel on card)
Some early steel shafts were coated with a wood-grain plastic sheathing to resemble wood. Not sure it its real wood?
Is the hosel thick or thin (usually a steel shaft)? Tap the shaft with a key or piece of metal; S there a metallic sound/ Have a magnet handy. A magnet doesn't ding to wood
Be careful when buying matched sets. Different sets had different numbers of dubs. If the putter S included, it is usually the last number in the set (8, 9 or 10). Woods and irons were usually sold separately and often don't match. In 1930, most gofers bought wood shafted irons and steel shafted woods; mixed sets like that are common.
DATES OF ILLEGAL CLUBS
Schenectady, Vale and other centre shafted putters banned in Britain 1909
Deep Groove Irons--banned after 1/1/1922 Concave face irons-banned starting in 1930 Non-wood (metal) shafts-illegal before 1924 (US)
ATTRIBUTES WHICH MAKE A CLUB DESIRABLE
What buyers should watch for Or trying to decide between two clubs? (These comparisons are general rules of thumb, other factors like condition, maker and style of club are also very important Better often also r sans older here )
Spike head woods are usually better than socket head -
Smooth face irons are usually better than scored face -
Square blade-at-hosel joint iron /betted rounded hosel joint iron -
Unusual face scoring patterns /better/ simple lines or dots -
Socket head with face insert /better/ plain wood face -
Wood head spoon /scarcer/ drivers or brassies •
A ram's horn sip /better/ fiber slip -
Specialty irons (jigger, sammy, spade, etc) /better/ mashie or mid iron -
Putters /betted irons -
Named irons /better/ numbered irons -
Shaped irons (diamond back, musselback, etc) /better/ plain back -
Shaped putters (gem, mallet, etc) /better/ plain blade style -
Chromed iron heads /not as good as/ steel or stainless -
Sheepskin (fine suede) grip /better/ polished calf •
A cub with a maker's mark or leek mark /better/ few or no markings •
A starred shaft /better/ unstamped shaft •
A premium wood shaft (ash, greenheart, lancewood) / better/ hickory -
Patent or registered design dubs are good -
Gun metal (bronze) head putters are good -
Clubs with aluminum butt caps are inferior quality
IMPORTANT DATES AND PERK/DS FOR CLUB STYLES
First American-made dubs produced about 1895
Woods: Splice heads--1900 or earlier, a few after 1900 Socket heads-1900 or later, a few before 1900 Fancy face inserts-Starting around 1920 Matching wood sets--From early 1920s
Irons: Stainless steel--From about 1915 onward Chrome plated heads-1920.30s Smooth face-1900 or earlier, a few after 1900 Scored face--Starting about 1900 Deep groove faces--1914 until illegal in 1922 Maxwell drilled hosel-First made about 1910 Concave face irons--Outlawed 1930 Numbered iron sets--Early 1920s Matched numbered sets-First about 1926
Grips: Sheepskin (suede)--used until about 1910 Polished calfskin--Popular after 1910 Rubberized linen--1895-1910, usually British Vulcanized rubber grips-from about 1900 (rare) Butt caps-1920-30s Bell ends--Mid-1920s onward
Shafts.' Steel shafts legal (US) 1924 (Britain) 1929 Last factory-made wood shafted dubs 1935 Laminated Bamboo--popular 1920s